Start-up Guide for Cargo Start
Cheapest availbale TMS-system for the logistic community.
How to start
Login, or register as a new user (the register button is at the bottom of the screen).
Add new orders to your system by clicking "New job".
The newly entered orders receive status "orderentry".
When already logged in, an overview of your active jobs is displayed.


Use to edit your order.
Use to change the status of your shipment.
Use to perform an action of your shipment, e.g. printing documents.


You can print a label of your shipment.
You can print a CMR of your shipment.
You can print a Book of Lading of your shipment.
You can print a bookingform.
You can print a pick-up list.
You can resent the shipment to your email address.
By default this is an XML-file, contact us for other formats.
You can check other transport options in the Transport Guide and send RFQ's from there.
You can create an invoice or an invoice output file.
You can show the route of your order on a map.

You can use actions on multiple orders by using "With selected" function at the bottom of Active Jobs page.

An output file of entered orders is sent to your email address. This email address you can modify in the setting
Please note: Cargo Start Programmers are able to customize screens, outputs and documents according to your wishes.
If desired, contact us by using the Feedback function.
Index
Does your business requires more functionality?
Another order entry form?
New users are starting with the most common used form.
But common transport firms do not exist, so if you need modification of this screen: ask us. We have experience of hundreds of customized made forms.
Cargo Start Programmers are also able to add functionality that calculates weight, volume, loadmeters, etc.
Other documents?
Cargo Start Programmers are able to customize labels, Bill of Ladings, CMR's, pick-ip lists, invoices, etc: all according your wishes.
Just sent us an example by using Feedback.
Another file output?
By default Cargo Start sends an XML-output file, but if you want to import it into spreadsheet software like Excell, we can easily change it to CSV,
Cargo Start has connections and partnerships with many other systems. Use Feedback to inform about options for the system you like to connect to.
Another method of receiving order output?
Cargo Start has other methods availble to make your data accesable for other parties.
These options include: email, ftp pull, ftp push, sftp, api or web interface.
Communication with other parties
Cargo Start is able to sent messages or documents to any third party.
Cargo Start can export or import any well known data-file. Just tell us what you want.
Cargo Start is linked with a big community of potential partners to do business with. Ask us how we can help you further.
Still not enough?
Cargo Start functionality is rooted in Cargo Office: one of the most extensive software libraries of the Logistic community. For more than 20 years Cargo Office functionality is used all over the world. Cargo Start is created by the same programmers as Cargo Office.
All functionality available in Cargo Office can de made accessable for Cargo Start users. If you are interested in Cargo Office, read this Cargo Office start-up guide.
Still not found what you were looking for? Then just ask us by using Feedback.
Description of menu functions
New job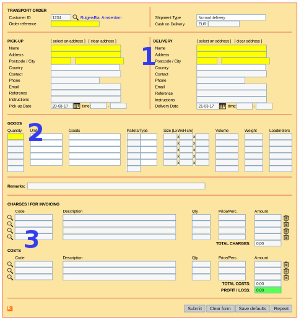 Basically there are 3 functions inside order entry form.
1. Pick-up and delivery details.


Added addresses are stored, so you can use them over again, by clicking [select an address] or the autocomplete on "Name".

2. Goods details.
3. Charges and costs details.


Note: the part of cost and charges is only vissible for user with level 20 and higher.


Your clients will not have access.

By clicking the looking glass symbol, you are able to store costs and charges. This will make your work style more efficient.
Note: there are different databases for costs and charges.

Some fields are required. If you want any changes to this form, then contact us through feedback.
Active Jobs

Active Jobs is the heart of Cargo Start. It displays an actual overview of your current orders and gives you several options to perform actions.
1. Options to make a selection of entered orders of your shipments.
2. An overview of your current shipments.
Note: we can modify the columns according your request.
3. Buttons to perform actions per order.
4. Options to perform actions on multiple orders.


Using "Resend Orderoutput" triggers an action to send an output file to your known email address.
Using "Send Invoice Output" triggers an action to display an invoice of selected orders in PDF-format.
Using "Show Route" displays the easist route of your order on a digital map.
Customer addresses
CargoStart
remembers
pickup ande delivery addresses you use in the order entry form so that you can easily select them if you want to use them again.
p (picku-up) and d (delivery addresses are automatically remembered whenever you have added them once in the order-entry form.
You can check all addresses that are remembered and change or remove them.
User details
All details connected with your account are displayed here.
If you want to change your password or other details, do it here.
You can multiple users from multiple customers.
Feedback
The most effective way to correspond with Cargo Start staff and programmers is by using Feedback.
It is a ticket system where all your questions and remarks are stored.
You can also use it as a library of information and knowledge concerning all products that are connected with your account.
Settings
Modify the input of your dropdown lists in the new job screen
Change the receiving address of your output file.
Change the colums of the grid in your Active Jobs.
Change the details of the company you are working for.
Add or modify statusses and set actions for futher communication.