View booking details
Where
Booking details can be found:
Explanation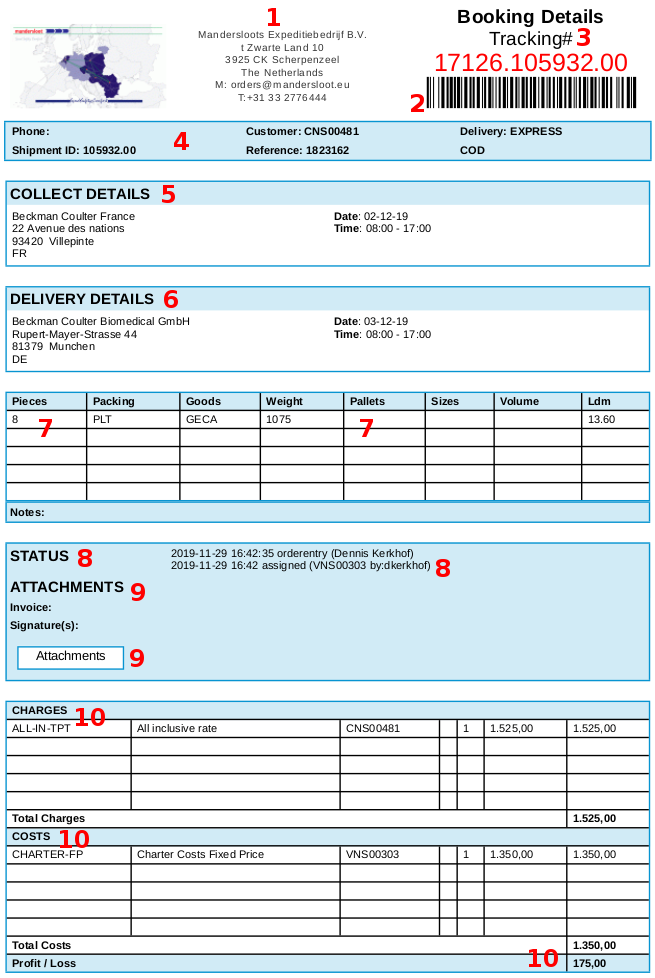 1. Address details. This is a setting you can modify in bookingformaddress.
2. Scanable barcode.


In general this consists the trackingnumber, but we can add other inforamtion as well.
Read more about: available types of barcode.

3. The tracking number, read more: how to use the Tracking number.
4. Different details concerning customer and shipment.
5. Collect details
6. Delivery details
7. Goods details
8. Actual status of this shipment.


Updated statuses of this shipment are listed here.


Statuses starting with an underscore [_] are only visible for users with user level 20 or higher.
How to modify statuses, see: About shipment status.

9. Attachments


All kinds of documents can be attached to your order and displayed here.
Note: when adding documents to an order, a monthly fee is charged for use of the document system.

Note: Booking details may look the same as BoL-templates, but are not.


One of the differents is that BoL-templates do not have statusfields or attached documents.

Note: This form is template based. In the past we've created more booking templates, see: Booking templates.
10. Profit Loss details

These details are only visible from userLevel 20.
Charges and costs are often inserted through orderentry forms or EDI.