Start-up Guide for FreeCargo
Join the network
Go to : https://freecargo.com
Click the Join button in the right frame. (Existing users use the Login button, of course.)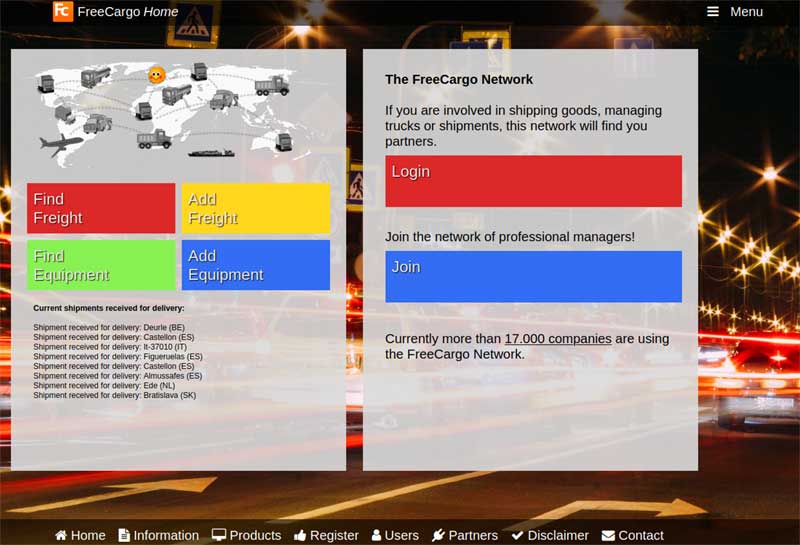 Before you fill out the
Join
form (see below) please check whether your company is already registered:
Click on CHECK HERE (see the form below) and type the name of your company.
If your company is found then it shows the email addresses of your colleagues. They are able to add you as a new user and you don't have to bother with joining here. Your colleagues can add you as follows:
Have your colleague to login and use the menu button on the upper right corner: Menu -> Settings -> User details. There they will find a New button to add you as a new user.
If your company is
not
already registered, then you are welcome to fill out the registration form below, click
SEND
and continue with the steps that follow.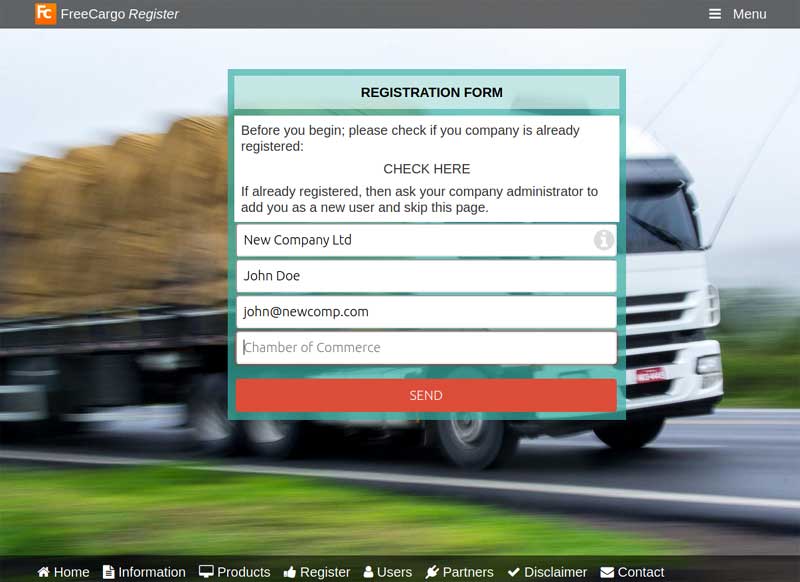 Enter your credentials
It is important that other members of the network know about your routes and equipment so that they can make a request for your services.
This is what you need to do:
Enter your (main) routes and destinations
Enter the type of equipment you have available (flatbed, Box trailer, Bulk trailer etc.)
Use the
menu
button on the upper right corner:
Menu -> Settings -> Company details.
Spend some time to fill out the the form and pay special attention to the
Destinations
part of the form.
Here is an example of the form and an explanation on how to enter your destinations (routes):
More about Company details
Enter your contacts
If you want to advertise your
equipment
or send
RFQs
(request for quotation) you have to enter the partners you regularly work with.
Later on, when entering a RFQ for example, you can select which partners you wish to inform and respond to your request. Click on the link
Contacts
on the left side of the screen:
Take some time to enter your contacts and partners. They don't have to be registered users. The system will tell you if they are registered or not, it makes no difference to the system. If you enter their email address they will receive a notification if you want them to. Conversely, you will receive a notification if they want you to do something.
More about how to use Contacts
Send RFQ's (Request For Quotation)
If you want a partner to move your freight, you can enter a RFQ by clicking the
Post freight
button. A notification will go out to your contacts (or a specific group of contacts) requesting them to enter a quote on your freight offer. If someone enters a quote (a price), you will receive a notification. Its then up to you and your contact to further exchange details and give the actual order.
More about RFQ's and post offers
View and find RFQ's
As soon as you are logged in you see a list of RFQ's for you to react on.
Don't panic if you see nothing, you probably forgot to enter your contacts or routes. Freecargo serves a lot of closed user groups and if you are not part of a network there is probably no business for you here.
So always start by entering your contacts and routes to create a network and attract interest to your business.
Find RFQ's and offers.
Questions?
If you have any questions about Freecargo then please use the
Contact
button at the bottom of the screen.
... A free freight exchange, only available for companies transporting goods.
How to start
Before you start, check whether your company has already joined the network before.

1. If you joined before with the same user email address, use the function to retrieve you password.
2. If you are a different user but from a company that joined before, use the button contact, so we can group users and business of your company.
3. If your company is not part of the network yet, then simply Join.

4. When you have your login credentials ready, then login.
Explanation of the Menu
Before you start have a look at the menu.
In order to open all sub-menu's: first click on the button: Offers (1).

No, don't search or add offers yet, first present yourself as a serious business partner and complete your company details.


Click Administration (2)
And then then Company details (3)


Then complete your user details.(4)

Now find or post offers. (1)


Find Freight or Equipment offers

Post Freight or Equipment offers

There are open offers and closed user offers.


Open offers are available for anybody inside the network.
Closed user offers are available for participants of a group.

To form a group, click Contacts.(5)

In case you have any questions, check the Online help (6)

In case you want more information, click Settings (7) and ask for feedback (8).
Before you leave the application, never forget to Logout (9), to avoid others using your credentials.