Track & Trace for Customers
About
When an order is inserted into the Cargo Office by using the orderentry system, booking details can be printed.
In the upper right corner of the bookingdetails a tracking number is provided.
Cargo Office adminstrators are able to distribute this tracking number to their clients.
This can be done automatically through mail or text message (sms), by using status actions.
Booking details of inserted orders can always be found when pressing "Shipment" in Active shipments.
This track and Trace form is template based. It is possible to modify this template. It is also possible to show a different template per customer.
Cargo Offices provided with the history system have the ability to search into an order history of more than one year.
Where to find
Front Office -> Track & Trace -> Track & Trace for Customers
How to use a trackingnumber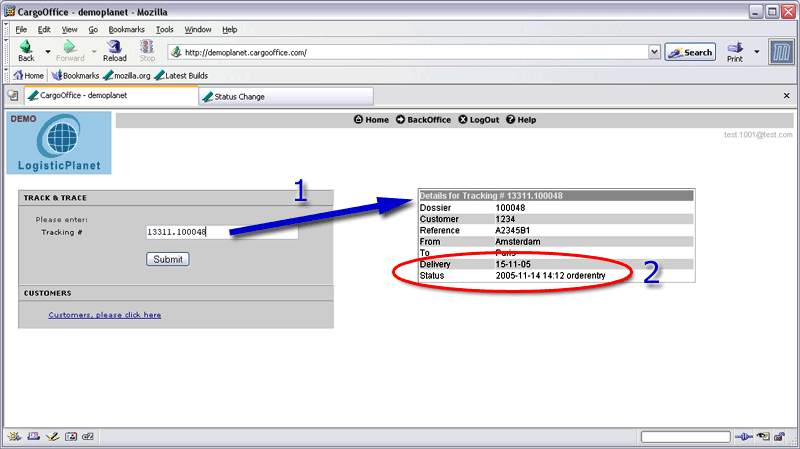 1. Customers fill in a trackingnumber.
2. After clicking submit, shipment information is displayed. This could contain e.g. delivery date and latest status of shipment.
You are free to add other information by using the parameter ttinfopclistcolumns.
Shipments can also be traced by "postal code" or "reference code".


This way customers are able to view their own shipments.
Customers know their reference number and therefore are able to track their shipment.
When using postcode and reference the output is shown in a grid. Parameter ttinfotracklistcolumns defines all headers of this grid.

If interested Cargo Office Programmers are able to create a different form per carrier or customer.
Track & Trace For Receivers
Track & Trace Info
We can also provide an option to display your Track & Trace Info in a custom made environment.
See for examples: Tracktrace.Info
It is a handy tool for anybody inside the transport chain: for receivers, for transporters as well as for consignors. Track & Trace Info include order status information, estimated pickup- and delivery times and easy upload tools for spreadsheets like Excel.