Sending a quote
About
Carrier staff are able to mail quotes to requesters.
The below explained example contains basically the same values as the Quote Request Details.
The quote can be sent to any email address of your choice.
Where to find:
Functionality only available for Level 20+ users.
Backoffice -> Quotations -> Active Quotations -> click edit button -> putting order status on: RFQquote
Explanation functionality
Note:
the example below consists of two parts.
The top part is where the user controls recipients addresses.
The bottom part, the Quote Mail Form, is the actual message that will be sent to the recipients.
Note:
the example below is template based and can be customized on request. When interested, use bugTracking to sent a request for customization of this template to Cargo Office programmers.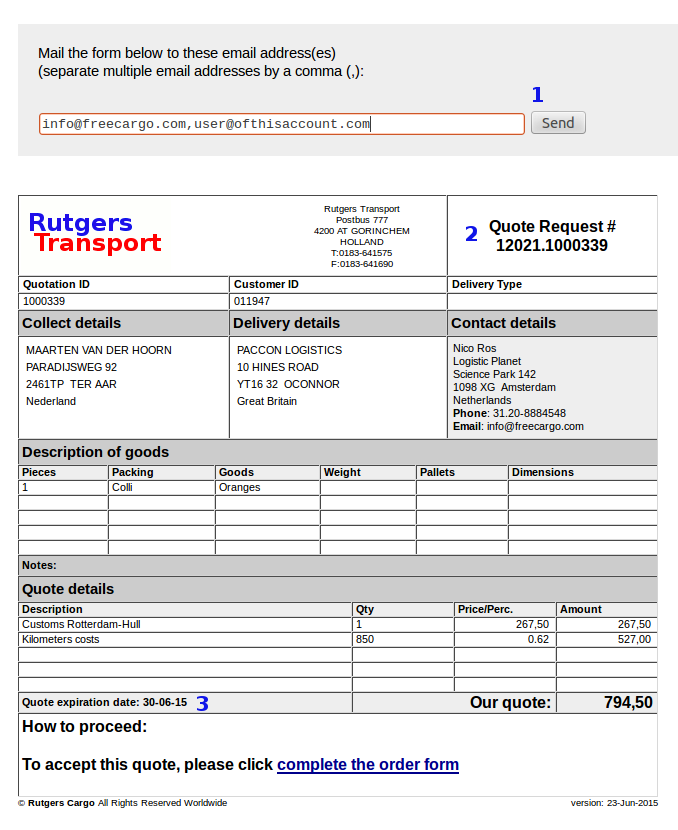 The Quote Mail Form form is sent to all email addresses which are added here.


By default, the requester email address is shown, as well as the email address of the logged in user.
The sender of the Quote Mail Form is free to add other addresses.
Note: all email addresses have to be comma separated.
After sending this Quote Mail Form, user comes back into the quotation grid (backOffice).
Status of the sent quotation order then is: RFQquote.

The Quote Mail Form consists basically the same values as the Quote Request Details. Differences are:


There are no order statuses visible.
A message "How to proceed" is shown. This message of course is meant for the recipient; it's a further procedure when receiving a quote.

A quote expiration date is shown. This date is controlled by carrier staff ( see: #5).