SMS Overview
Where to find
Back Office -> Settings and Management -> SMS overview
What about
SMS overview displays all SMS messages sent by Cargo Office.
This tool gives Cargo Office administrators options to check wether Cargo Office has processed their SMS messages.
SMS messages are mostly used to inform delivery address of transporter arrival time, but the technique can be used to inform and communicate with every other user inside the transport chain.
Description
The following screen shot is an example.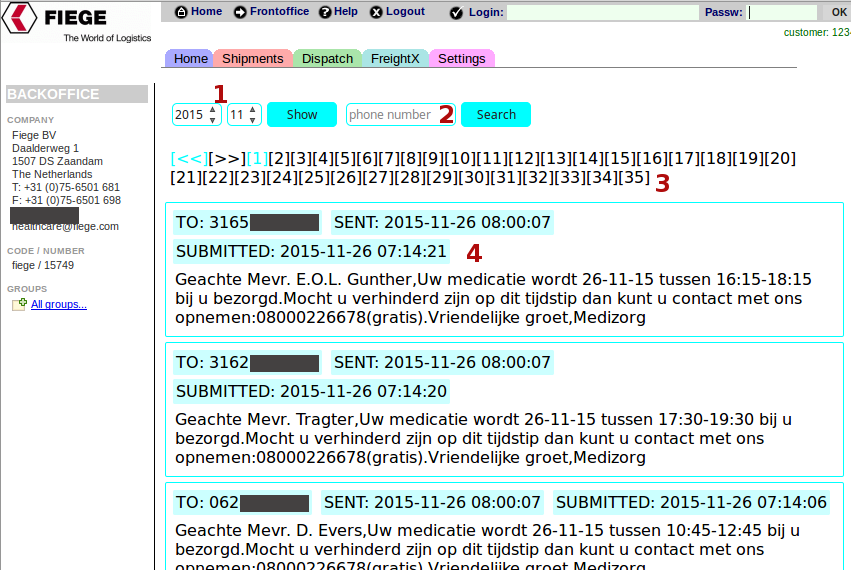 1. Selection per month.
2. Search option for mobile numbers that were used to sent to, within selected month.
3. Page selection of all sent messages during this month.
4. Message details:

TO: mobile number to which message was sent.
SENT: the exact date/time Cargo Office sent this message to the provider of the to-address.
SUBMITTED: the exact date/time Cargo Office received the job to create this SMS notification.
[message below]: The actual message that was sent to TO-address.
Note: most messages are constructed by status actions.
More information about SMS
If you want to use the Cargo Office SMS system and it is not activated yet, then please sent us a request by using your Bug Tracking System.
Note: Cargo Office has more communication tools available.
For the use of the SMS system we charge an extra fee, all depending on the amount of SMS messages you are using.
We use a special algorithm to charge you a reasonable price. Simply said: if you use more SMS, than the price per SMS goes down. We are able to this relatively cheap, because we have multiple customers and therefore are able to negotiate a good price with respected SMS bulk providers.


--
RutgerRutgers
- 2015-11-26
---
This topic: Cargooffice
>
AboutFreecargo
>
FreightExchangeHowto
>
WebHome
>
CargoOffice
>
AdminManagement
>
SmsOverview
Topic revision: r1 - 2015-11-26 - RutgerRutgers