How to add a report
Where to find
Go to your Report System: Back Office -> Cargo Office settings -> Feedback and Report System
Click the button at the bottom: "Add new Report".
Add a report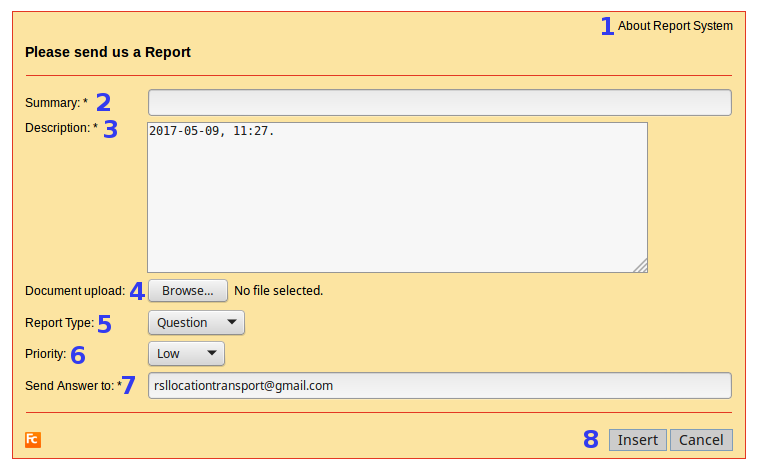 1. A short explanation what is happening when inserting a report.
2. When adding a report, give a name to the report.
3. Give a description about this report.
We already displayed the current date and time. We recommend you to use it.
4. If you want to add a document or picture to your report, do it here.
You can only do it at this stage and only add 1 document.
5. Label your report according its type. This helps programmers to answer your report more adequat.
6. If you label this report with priority "High" programmers will answer you as soon as possible.
Note. In times we'll ask you for more information so we can complete this report. When this report is labelled "High" we will expect a fast response from your side as well, otherwise the system will label your reports as less important.
7. Fill in your email address.
Note. We'll sent notices about this report to this address, so be sure to fill in your correct email address
Note. Do not worry, we will never use this address for commercial use.
8. After inserting or cancelling this report, your screen is switched to "Overview of active Reports".
--
RutgerRutgers
- 07 Sep 2006 / 2016-11-14 / 2017-05-09