Company details
Where to find
About Company Details
Company details are important for people to find your company, for example from the Transport Guide.
Company details are important to receive Request For Quotations.
Company details are important for shippers using TransportCommander where they are looking for transport providers.
Description
Maintain Company Details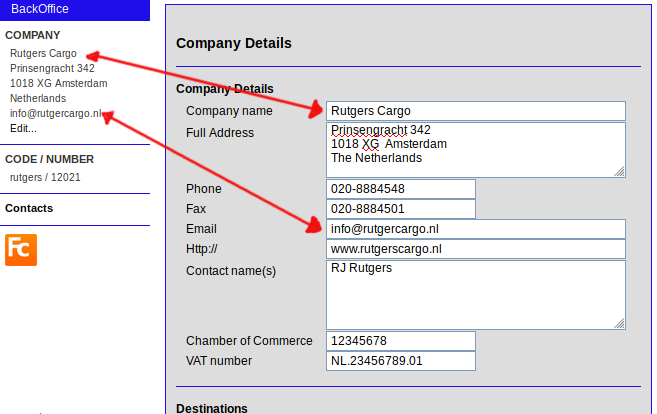 Address details are shown in the left bar of your CargoOffice, as well in the Front Office as in the Back Office.
Enter your new details in the edit form.

Use multiple lines when you want to display your full address.
List multiple contact names, each on a new line.

Business partners value your company higher if your VAT and Chamber of Commerce details are known.
Finish your procedure by clicking Submit.
If someone searches the network want to send a Request For Quotation, your Company Details look something like this: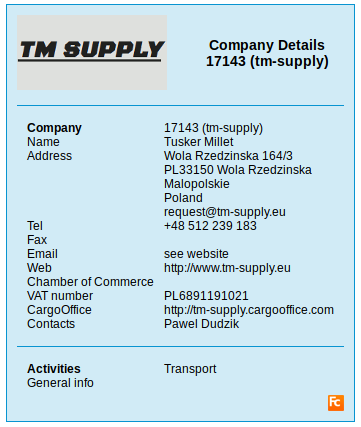 Destinations
It is extremly important to enter your detinations into this form, otherwise people are unable to find you.
Smart community tools like FreeCargo and TransportGuide brings you business based on your destinations.
Destinations boosts exposure and attract customers.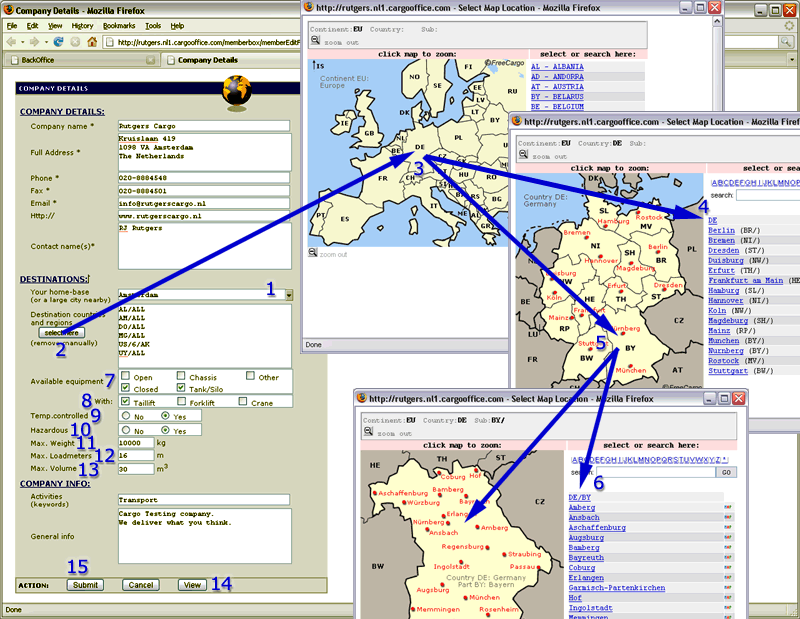 1. Choose a city or village as your home base.
2. Select all destinations your company is visiting regularly.
If you want to remove destinations, remove them manually per line.
3. Select a country.If not in Europe, click "zoom out".
4. If you want to list a full country as destination, click the country ISO-code.
5. If you want to select a particular part inside a country, choose this part by clicking this particular region
6. Click this particular region or depending on the country, select a new level inside this particular country part.
7. Select equipment you've available at your transport vehicles.
8. Select availability of extra equipment on vehicles
9. Select availability for temperature controlled transport.
10.Select availability for hazardous transport.
11.Insert maximum weight per destination.
12.Insert maximum loadmeters per destination.
13.Insert maximum volume per destination.
14.View your company details as inserted above.
15.Submit all above added data.
Company Info
Regular updated company info spreads your company exposure.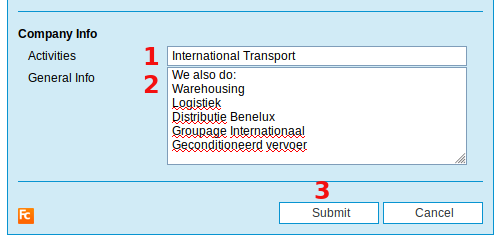 1. Insert your most important activities, e.g.: transport, forwarding, grouping, warehousing, etc.
2. Describe your company.
3. Submit all above added data.